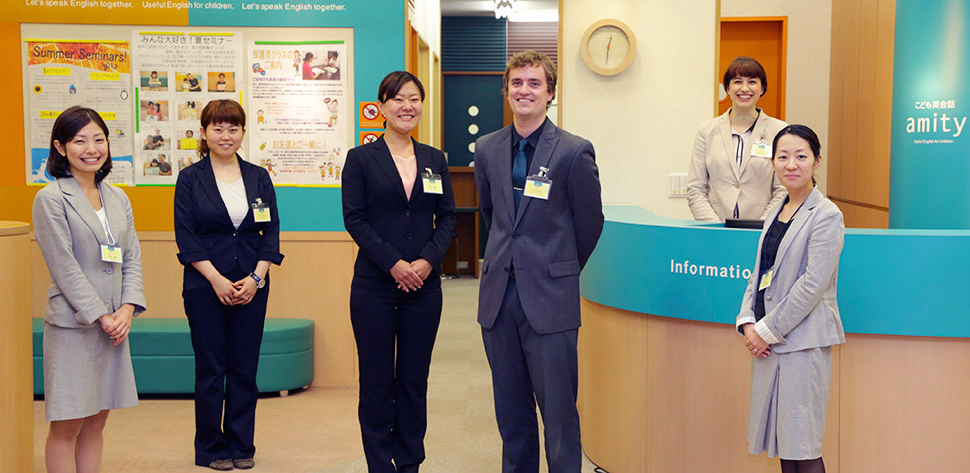 Amity teachers come from all over the world, bringing together unique cultural
perspectives and enthusiasm for teaching children.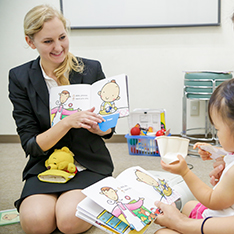 How would you describe your overall experience working for Amity and living in Japan?
I would describe it as both an adventure and a learning experience. Before coming to Japan, I had very little knowledge of the country, language, and culture. After one year, I have had the opportunity to travel to many places and experience a variety of new things. I have learned how to adapt and become flexible in order to accept differences in culture. Overall, it has been a positive and enjoyable experience.
What obstacles have you overcome since you started working for Amity?
I think that the biggest obstacle for me was adjusting to a different work environment. I was very overwhelmed and exhausted at times; however, the staff at Amity was very helpful for me. Outside of work, I had trouble finding the time and energy to do the things that I wanted on my days off. Since then, I have learned to value my time and have thus become better at time management both at work and in my personal life.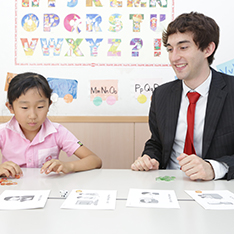 Derek Rogers
HIROSHIMA FUCHU
HOW WOULD YOU DESCRIBE AMITY TO A POTENTIAL APPLICANT?
The largest portion of your day at Amity is obviously teaching. Everyday you'll spend plenty of time in the classroom working directly with students of all ages and skill levels. It isn't uncommon to go directly from a class teaching a toddler their ABCs to discussing complicated grammar points with high school students. That being said, while Amity is first and foremost a job that requires plenty of teaching hours, it also has many other elements involved. Teachers are expected to spend their free hours at work not only planning for future lessons but also coordinating seasonal seminars at the school, teaching lessons for prospective students, or even distributing fliers around the community.
WHAT THREE THINGS DO YOU LIKE MOST ABOUT WORKING FOR AMITY?
By far the most enjoyable things about working for Amity are the students. Whether it be watching a baby you have been teaching for months say his or her first English word; an elementary school student trying their best to express something exciting that happened at school that day; a high school student recounting the plot of their favorite drama; or an adult student sharing tales from their trips around the world – working directly with the students is always rewarding. Throughout each and every week, I get to interact with a diverse and interesting group of students, all of whom are studying English as hard as they can to be able to communicate their thoughts, feelings, and stories.
Another great perk is the opportunities to travel extensively throughout Japan and beyond. I was really relieved to discover that, with the salary and bonuses provided by Amity, I have been able to see so much of Japan and the surrounding countries while still being able to attend to my financial obligations at home. Finally, Amity has provided a great way for me to live comfortably in Japan. Within the first few weeks I was set up with a cell phone, a bank account, and information on how to forward money home to my bank account in the States. My apartment is perfectly sized, already furnished with everything I need. Plus, its location is perfect: whether I want to take a fifteen minute train ride downtown or a three minute train ride to the Shinkansen station, which connects to virtually all of Japan in mere hours, I never run out of ways to experience a new and interesting culture.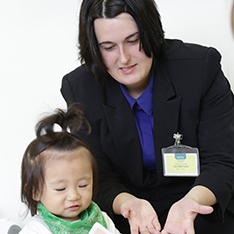 HOW DID INITIAL TRAINING HELP YOU?
Initial training helped me by demonstrating all of the techniques needed for teaching each level. It also helped me to recognize that the task before me would not be an easy one. The demonstrations given by the trainers were very helpful, but of course some aspects were a little different upon arriving at my branch school. Initial training also provided me access to a great support network, not only with the trainers, but also with all of the people that I met who attended training with me. We all keep in touch and support each other where necessary. Initial training also helped me merge into Japan with somewhat of a safety blanket. I was able to explore Japan a little on my own, knowing that I had people I could talk to with any questions or concerns. Overall, Initial Training introduced me to both the positive and stressful aspects of taking a position to teach English in Japan.
DESCRIBE YOUR TRANSITION FROM TRAINING TO THE CLASSROOM.
Upon arrival from initial training, I was not sure what to expect because I knew that each branch school is a little bit different. I was pleased to find a warm, friendly, and engaging staff to welcome me to my new school. I tried to take everything I learned at Initial Training and apply it in my first week of shadowing the outgoing NET. At first I was a bit overwhelmed, however, now I am focusing on the most important aspects that I was told in training that are important for the students and making sure they are getting the required information they need. Also, I am learning to adapt my lessons with my student's personal needs in mind. I think that no matter how thorough, no training can prepare a person for the amount of joy and stress that can be experienced once you know that your students are learning English from you. Seeing young students being able to identify English words all on their own has been the most rewarding experience I have ever had. I was scared at first coming from Initial Training, but after seeing just how important this position is, I am determined to do my best. I am still learning of course and my complete fulfillment in this role may take a little more time, but I am confident now that it is something I can achieve.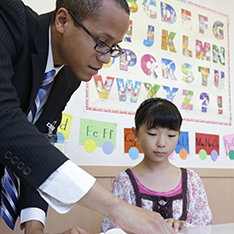 WHAT MADE YOU CHOOSE AMITY OVER OTHER COMPANIES THAT INTERESTED YOU OR WITH WHICH YOU INTERVIEWED?
I think one of the main things that made me choose Amity over other companies is that I got the feeling that Amity genuinely cared about students' ability to use the English they learn. It's one thing to memorize words and phrases and be able to reproduce them on a test; it's a different thing entirely to understand the meaning and context of what you learn, and be able to apply the appropriate words and language patterns to real-life situations. In a world where more and more emphasis seems to be placed on test scores, it was refreshing to see a company that valued the practical use of English.
I was also impressed by Amity's teaching methodology, which incorporates both traditional drilling methods and physical movement to help students understand and remember the language patterns that they learn. Additionally, the Amity teaching methodology gives students ample opportunity to actually practice using the language, a crucial aspect of language learning. Reading over Amity's educational philosophy, I was convinced that Amity would be a great place to help students discover the joys of language learning.
HOW HAS AMITY EXCEEDED YOUR EXPECTATIONS?
I have been very impressed with the creativity and teaching ability I have seen in my co-workers. I feel that the teachers at Amity have put a great deal of time and effort into planning their lessons and strategizing how to most effectively teach their students. In addition to creating fun and effective activities, the teachers at Amity also show a great deal of concern for each individual student. They put a lot of consideration into their course recommendations to parents and take time to tailor their seminars to fit the needs of their learners. I can attest that a lot of time and energy is put into the running of any Amity school, and this alone has left quite an impression on me.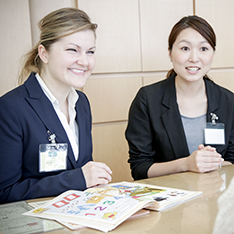 WHAT DO YOU FIND DIFFICULT ABOUT TEACHING CHILDREN?
HOW DO YOU OVERCOME IT?
One of the most challenging things about teaching children is choosing activities that are appropriate for the students based upon their age, ability level and attitude. Although we have a format for teaching at Amity, the teacher is given a lot of freedom to choose activities for each lesson. Each class is different and it takes time to prepare classroom props and choose activities that are suitable for the students.
Once I learned how to change my lessons to fit each class, the next step was simply working on communication and student interaction. Teaching is a process where a teacher can continue to improve over time. No one is perfect, but it's important to work hard and do one's best!
WHAT KNOWLEDGE HAVE YOU GAINED SINCE YOU STARTED WORKING FOR AMITY?
Some of the knowledge I've gained while working for Amity is regarding Japanese business and work culture. Although teaching can be time consuming and difficult, teachers really work hard to make fun, educational lessons for their students. Duties tend to increase the longer you work at Amity. The more experience you have within the company the more responsibilities you receive overtime. Many things go unspoken in the Japanese workplace and are expected to be understood without words. This can create cultural barriers, since westerners are usually more direct, but it also makes work a challenging place where you grow by interpreting what others are trying to communicate to you.
I have also learned a lot about Japanese family culture. Many mothers work part-time or stay home so that they can support their families by taking their children to classes and doing their best to help them with their studies. As a result, I see many of my students reciprocating their parents' appreciation of education by working hard and doing their best. Education is taught from infancy in a fun way, which makes children want to learn and study. I really feel this family style is very good because it emphasizes the importance of education.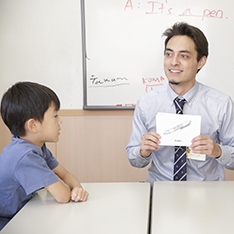 James Curtin
HIROSHIMA FUCHU
WHAT DO YOU LIKE MOST ABOUT WORKING FOR AMITY?
The thing I most like about working for Amity is the children. Everyday the kids bring tons of energy and enthusiasm to class. Each day brings something different – new challenges, goals and accomplishments. They all seem genuinely excited to learn and practice their English. Furthermore, the Amity teaching method includes many games, activities and songs so there is never a dull moment. Not only do I get to play with kids in class but also in the lobby! I can honestly say I am excited to come to work everyday and play with the children while teaching them English!
WHAT MAKES YOU WANT TO CONTINUE WORKING FOR AMITY?
The relationships I have developed with the kids at my school make me want to continue working for Amity. After only four months here, I feel like I have developed deep and meaningful connections with all of my students. Even though I only see most of them once or twice a week, I feel like I have made an impact on their lives and positively influenced their desire and ability to learn English! Furthermore, I have seen them improve greatly over the short time I've been here! It is extremely rewarding to see the students accomplish grammar patterns that seemed far outside their grasp only weeks before. I want to continue working for Amity to continue my relationships with my students and to succeed in mastering their English goals!